Robin Finney- Self Care Series
Let me introduce to you Robin!
I have been in contact with Robin for the past year, and I am pleased to announce, that she will be coaching in our up and coming 'Coach As You Go' Yearlong Program.
She is a such a beautiful Confidence & Empowerment Coach that will be guiding members through learning to connect to yourself and what you need to know through Oracle Card readings. She also is a powerhouse of a coach that truly knows how to style and set-up photo shoots! I am sure her knowledge in skills will be so useful for so many of members in the program.
Enjoy!
TELL ME YOUR STORY!
WHAT IS THE BIG WHY? PLEASE GIVE DETAILS... THE MORE JUICY THE BETTER!
Last year I quit my corporate job of 11 years to follow my dream of traveling the world. I set off on a solo adventure across 11 countries and 4 continents. I had no set plans and only bought one-way tickets along the way. What I discovered during my travels is my purpose and calling in life -- to empower others to find their confidence and step out into the unknown through solo travel. I offer Empowerment Challenges, design Empowerment Photo-shoots, and this fall will be leading a group trip to Latin America for people who want to solo travel but don't really feel ready to do so on their own. I will also be launching a 6-month program centered around empowerment that will include designing a solo trip for each participant to embark on along with an empowerment photo-shoot and ending with a retreat. I am also writing a book about empowerment through solo travel, and have my own personal goal of doing 10 photo-shoots in 10 different countries over the next year. So far I have one down...Paris! I look forward to seeing what other countries pop up.
WHAT KEEPS YOU GOING?
HOW LONG HAVE YOU BEEN IN YOUR FIELD OF PRACTICE? *
1 year
WHAT WAS THE REASON YOU CHOSE YOUR CAREER? *
I got burned out in the corporate world and was always searching for a deeper purpose. Travel has always been at the core of all of my passion and joy in life.
WHAT WAS ONE OF THE MAIN STRUGGLES YOU DEALT WITH IN BEGINNING YOUR BUSINESS?
Figuring out exactly what I want to do and listening to what I wanted rather than what others suggested. And owning my gifts and purpose.
HOW DO YOU BALANCE YOUR WORK/LIFE? *
Still a work in progress. ;) I am learning each day what works/doesn't work for me. I know that I need time to meditate/yoga/get quiet each day and even if it's a few minutes here and there, it makes all the difference in getting grounded.
WHAT DOES SELF-CARE LOOK LIKE FOR YOU? *
Nurturing my needs and caring for my physical and mental health. Listening to my body and resting when it needs rest; moving when it needs movement; eating well, taking baths, yoga, meditation, dark chocolate, saying yes to what feels good and no to what doesn't.
WHAT IS ONE OF THE BIGGEST SUCCESSES/HOW DID YOU OVERCOME YOUR STRUGGLES?
Owning who I am and not letting outsiders influence how I live my life. It's taken me a long time to get here. I have to move through judgement both internally and externally and tune in and own what makes me, me.
IF YOU MET YOURSELF 3-5 YEARS AGO IN THAT STRUGGLE, WHAT IS ONE THING YOU WOULD TELL YOURSELF THAT COULD HELP?
Stay true to yourself and listen to your desires rather than the desires or influences of others. It's your life and no one else is living it.
WHERE DO YOU SEE YOURSELF IN 5 YEARS WHEN ALL YOUR DREAMS COME TRUE?!?!
Being an empowerment influencer, speaking on large stages, going on tour for my book(s), continued photoshoots all over the world.
ANY LAST THOUGHTS, WHAT ARE YOU WORKING ON NOW THAT YOU WANT TO SHARE??*
I am writing a book about empowerment through solo travel. I am collecting stories of various solo travelers and weaving mine throughout. The book is more about the empowerment and confidence gained through solo travel and experiences that lead to that. I am also mapping out my 6 month empowerment coaching program that I'm really excited about! And continued photo-shoots all over the world.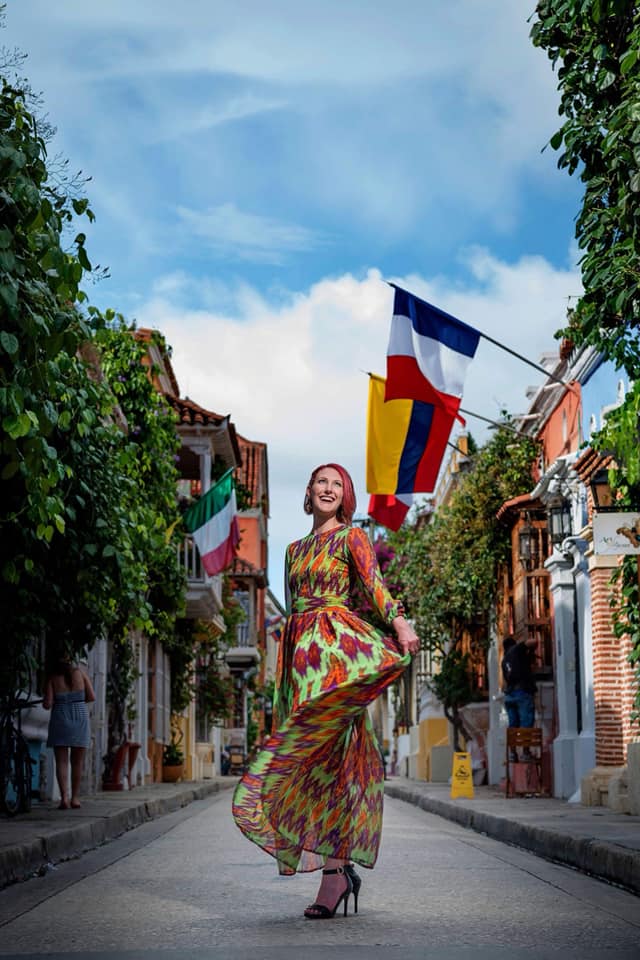 I got burned out in the corporate world and was always searching for a deeper purpose. Travel has always been at the core of all of my passion and joy in life."
MINDFUL MODERN NOMAD, EMPOWERMENT COACH, EMOTIONAL BODY MAPPING COACH/TEACHER, LMT.
I can happily say that my dreams came true with both my mindset and holistic business coaching and with my bodywork and emotional body mapping teaching. I feel I am finally fully able to be there every step of the way with my client's needs and be a witness to the process.
ARE YOU A HEALER, A GIVER, WORKING IN A SERVICE-BASED BUSINESS (WHETHER IT'S YOUR OWN BUSINESS OR NOT)?
Are you forgetting to make space for your personal expansion, healing and growth? Do you put YOUR wellness on your calendar? Stay inspired doing the thing you do for other people by joining our EMOTIONAL BODY MAPPING ACADEMY, created for people just like you and I, who serve to be reminded that holistic care starts with holistic self-care.
Enroll in our Self-Care Unicorn Emotional Body Mapping Course:
Get the book "The body speaks: Conversations on Emotional Body Mapping"